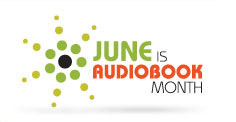 Yes, it IS Audiobook Month, as spearheaded by the Audio Publishers Association, and cheered on by narrators, proof-listeners, producers, directors, sound engineers and, most of all, listeners.
So, I have a few commercial projects in progress, one of which is in its closing stages, so I'll update about that when it becomes available.
I'm also happily producing A Room of One's Own by Virginia Woolf for legamus.eu. If you've not come across Legamus before, we're a parallel setup to LibriVox; only, where LibriVox works under US law, based on US servers, Legamus works under EU law (Life + 70) and is hosted on EU servers. Because it's fairly new, there are only a few books available so far, but if you are based anywhere in the world EXCEPT the US, Mexico or Colombia (who all have lengthy copyrights) have a look at the site to see what's already available: http://legamus.eu/blog/ Yes, if you're a LibriVox regular, an awful lot of the readers will sound familiar. It's fun.
ALSO, being a small outfit so far, we're using free hosting for our files. So if you'd like to listen to my recordings as I put them up — and if it is legal for you to do so, given that Woolf died in 1941 — you can download the in-progress files here: [LINK REMOVED – SEE BELOW] I'm halfway through, should finish this month.
I've also signed up for a two part D.H. Lawrence story there — The Modern Lover. Recorded but not yet edited.
At LibriVox, I am busy being Dr. Watson for a dramatic reading of The Hound of the Baskervilles. This will definitely get a blog post of its own in the near future, because I'm finding it enormously interesting to work on.
The Mysteries of London proceeds at its usual glacial pace. I really must do something about that.
And, other things to come, I'm sure! This is going to be a great month.
[Edited to add: You can now hear A Room of One's Own in its entirety by downloading from here: http://ge.tt/1btiXDJ]